There's a huge buzz around bitcoin at the current time with its valuation spiraling upwards towards $60k.
Yet even the cryptocurrency champions who claim we are witnessing the birth of a global currency that will make access to wealth more democratic, acknowledge that the way Bitcoin is farmed is problematic.
The cryptocurrency has been consistently criticised by environmentalists who point out the colossal amount of energy that is harnessed in the search for coins. A team at Cambridge University discovered mining bitcoin consumes more electricity annually than the whole of Argentina. The researchers say it consumes around 121.36 terawatt-hours (TWh) a year – and is unlikely to fall unless the value of the currency slumps.
Surely there has to be a solution to this, and that's where Canadian clean technology company MintGreen comes in.
It has just announced the close of a seed financing round as it prepares to deploy a large-scale commercial project to harvest heat from bitcoin mining.
MintGreen claims to have come up with a method of recapturing and re-using the energy  to heat and cool cities.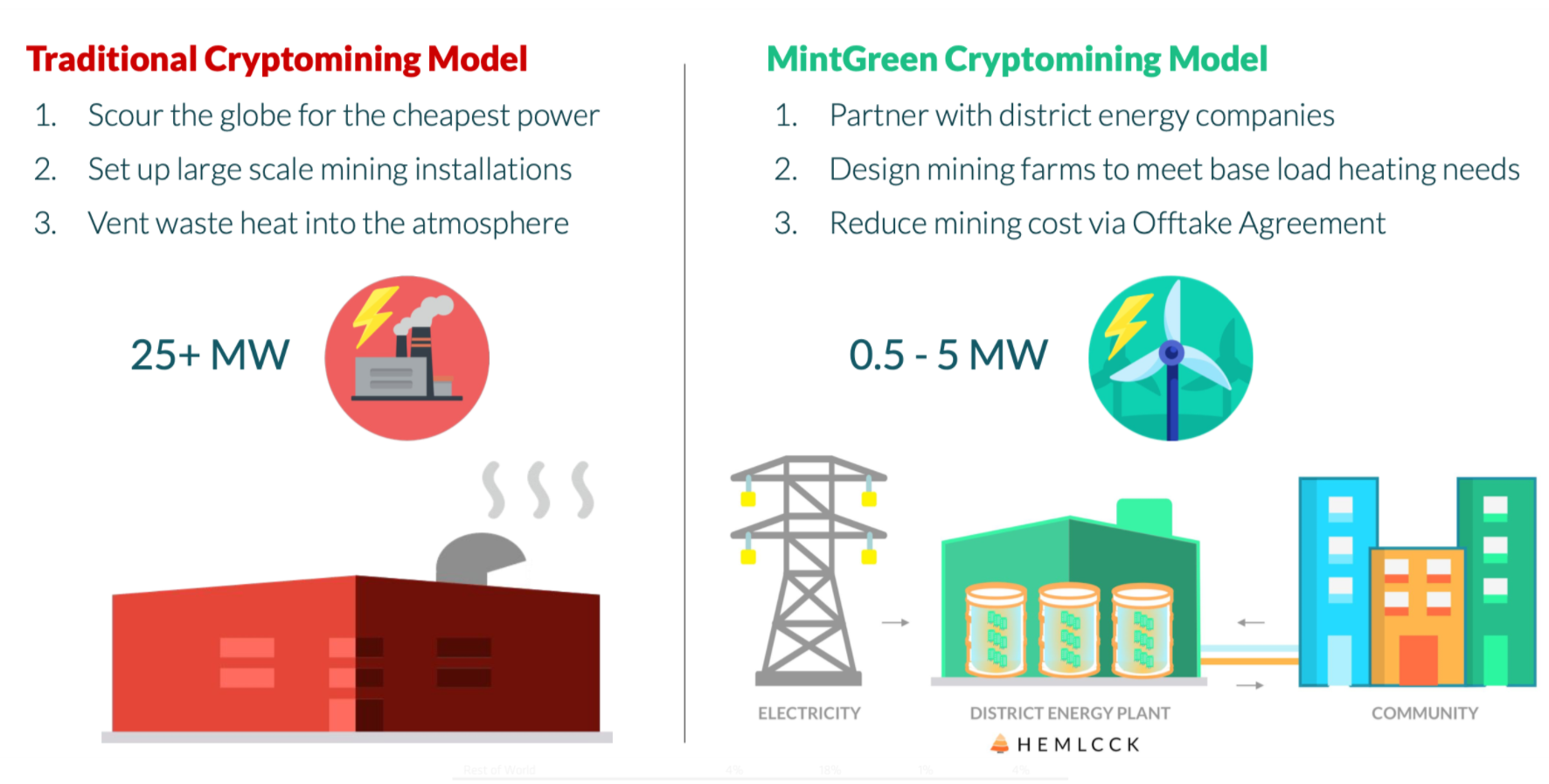 "Bitcoin fixes many things, but we find ourselves with the unique opportunity to fix one of Bitcoin's biggest problems without changing a line of code," said Mintgreen's President Colin Sullivan 
MintGreen is pioneering the reuse of heat generated by computers while mining bitcoin to sell to industrial clients. It utilises "immersion" systems to mine bitcoin with clean-sourced energy, then produce heat from that process. 
To prove its concept Mintgreen has a couple of pilot projects on the go. One involves selling bitcoin mining heat waste to a sea salt company, which uses it to literally boil the ocean so it can distill salt flakes in the process. The other sells bitcoin mining heat to a Canadian whiskey company so that it can boil mash as part of its process.
"Colin and the MintGreen team are doing some really innovative work around heat recovery and redistribution," Samson Mow, CSO of Blockstream and a special advisor to MintGreen, told Bitcoin Magazine. "It's great to see them expanding their operations and opening up new opportunities for the mining industry to grow."
The funding round was led by CoinShares Ventures, the investment arm of major digital asset firm CoinShares which is apparently prioritising green mining solutions 
"At CoinShares, we believe Bitcoin will drive fundamental changes in the energy and infrastructure sectors," Meltem Demirors, CSO of CoinShares, said"As the North American bitcoin mining ecosystem grows, innovative companies like MintGreen will bridge the gap between bitcoin mining, industrial power generation and sustainability mandates."
Photo by Roger Brown from Pexels