I am fascinated by Smart Cities and how we can attach electronic Internet of Things (IoT) sensors to objects to collect data and then use this data to manage assets and resources efficiently. And this week I was fortunate enough to MC two very different events – yet both were on the topic of Smart Cities.
The first, which was organised by Pictet focused on buildings, co-working spaces and retail.
Here's what I learned:
1 We actually know more about the habitat of gorillas than of people – Euan Mills, Head of Digital Planning at Connected Places Catapult – Boris Johnson's former design advisor made the point saying that data about cities is buried in non-machine readable documents – usually PDFs and is tricky to access.
As an example he asked us to think of how in the UK we still depend on laminated bits of A4 that show up on our lamp posts to see what the new plan for our neighborhood is. We have a culture of documents, not data.
2 We need to change the way we plan – Euan added that London has had more plans than years it has been in existence. Yet our City – and every city – is changing faster than the plans can keep up with it. He argues we need to upgrade how we plan, not what we plan for. He has an idea how to do this. It includes linking policies to evidence data so when the data changes, the policies can evolve.
He asked a question about who owns the data that driverless cars will "see"? Air quality, traffic, roads that need repair.
3 There are lots of companies using data to disrupt real estate – It isn't just councils who are behind in digitising.  Real estate lags behind other sectors in embracing digital change. Zsolt Kohalmi, Pictet's Real Estate Expert who has 24 years in real estate private equity – noted that as a percentage of revenue – the IT budget of Real estate companies is 1.5% vs. banking and securities where the figure is 7.2%
He talked us through some of the companies that are disrupting real estate investments. For example Geophy is taking public records and overlaying them with Uber records to show pickups between 5-7 pm (people going out for an evening) and places where there are jazz concerts and coffee shops in order to identify upwardly mobile areas (apparently the upwardly mobile listen to jazz).
Gyana measures footfall traffic in stores and use of meeting rooms to give landlords an idea of what areas are – and aren't – getting used.  There are also companies tokenising commercial real estate so you can own a small part of a building. And Zillow uses AI to price homes without legal and survey fees. He pointed to the fact that legislation to allow innovation needs to catch up with the speed of technological change.
We then moved on to 'How to build a Smart City' with Vanessa Butz, Co-Founder and CEO of District Technologies and Laurence Kemball-Cook, Founder & CEO of Pavegen, whom I met at Hub Culture 10 years ago with one of his first prototypes.
District creates software that connects people within buildings, co-working spaces, and can drive smart buildings. You can open doors, operate lifts, book meeting rooms, see what food trucks are turning up that day, and sign up for a yoga class at lunchtime.
Pavegen is a flooring tile that converts the wasted kinetic energy from footsteps into renewable electricity. We had a couple of feet of it in Hub Culture – but he's created a football field in a favela in Brazil, and you can dance on his floor a block from the White House powering lights for Democrats and Republicans alike..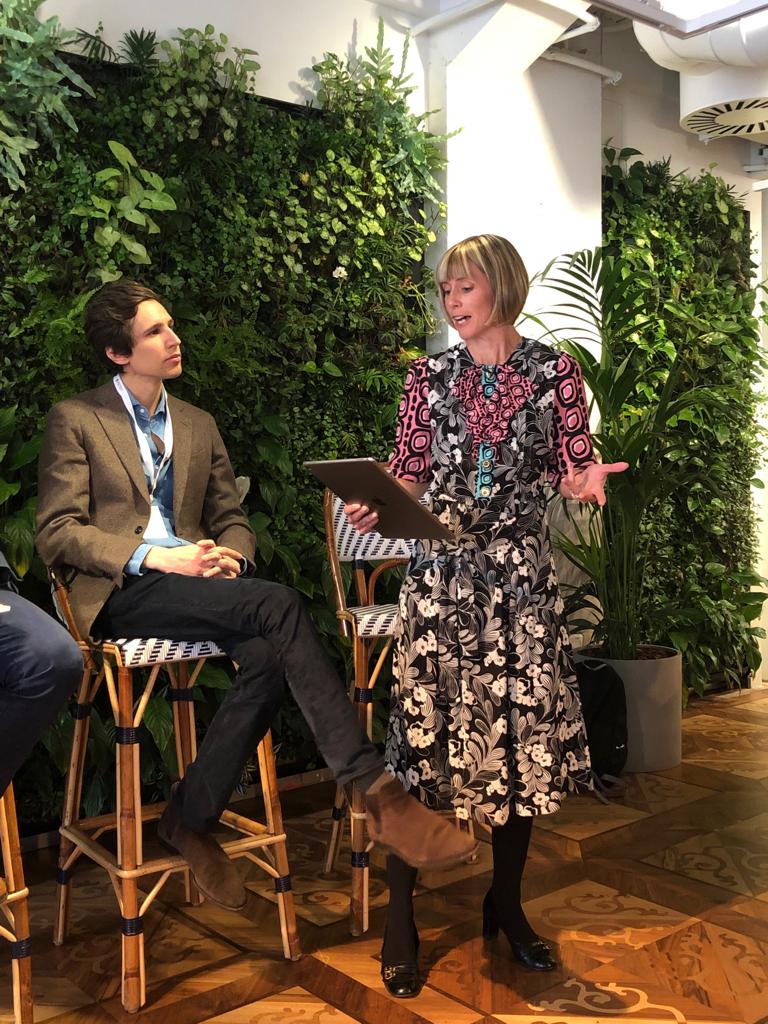 4 If you want to see the future for cities, look east – Laurence pointed out that while London likes to talk about being a Smart City, the places that are leaping at his technology are further east – from former Soviet Republics to Asia. He explained that part of the issue is how do you retrofit a city like London. He tried to dig up a part of Oxford Street to install some Pavegen tiles and within inches ran into a part of the Underground line which no one knew was there. (Back to the non-digitised documents).
5 Yet there is much we can do to turn London into a Smart City – James Bidwell – Co-founder of Re_Set & Chair of Springwise showed us many incredible ideas about how we could retrofit London. One great one was a flexible fabric that generates electricity from subway tunnels. It's due to be installed in Crossrail tunnels – which sadly have been delayed.
We then moved on to retail with Angelo Zegna  Head of Stores, Appear Here – the Airbnb for retail.  He has a luxury background – Luxotica (flash sunglasses), Bain Consulting, and the family business.  His last name may give you a hint as to what that is.
While estate agents still want to lease buildings for seven years, brands won't commit to that amount of time.  Appear Here helps brands 'pop up' for less amounts of time – trying out new areas and partnerships with local businesses (coffee shops, artists). They can A/B test a new area at a far less risky price.
Appear Homes' pricing model is like Uber – it offers surge pricing during more popular times (Christmas).  He says brands now have to get hyperlocal. The experience I had recently – walking through a department store in Rome and seeing exactly the same brands I did in London – is pointless. I want something special, a local designer to remember the trip by. Who is doing this well? Los Angeles thanks to creative outflow from New York and San Francisco.
His point: the High Street is not dead, department stores are not dead – what's dead is customer coming back whatever.  He also says that thanks to Instagram, consumers across a nation are savvy. A/B testing Brighton is as important as Shoreditch. And by the way, it is currently cheaper now to open an offline store than an online store – if that online store includes performance marketing (ads via social media and Google).
6 Smart Cities can deliver both purpose and profit – Then we moved onto purpose and profit with Rupert Dean – Co-founder & CEO of X+Why – co-working for businesses with purpose.  X+Why works with landlords to design, manage and operate flexible workspaces to create more profit than they would otherwise through either operating the space themselves or from a conventional lease.
And finally Saasha Celestial-One, Co-founder and COO of Olio talked us through her app that aims to build communities and tackle food waste at the same time.
What's the best way to describe it. Two days before the Smart Cities event I posted a can of leftover cranberry sauce from Thanksgiving.  I was sceptical. Who – besides an American – wants cranberry sauce in London. Beyond that – who wants it in May? I had a message on the app within a day – and it was out of my cupboard and onto someone else's plate.  The stories are compelling – people who find themselves out of a job and out of a way to feed themselves and their families. People who are living out of their car.
Talking Smart Cities and mobility in Monaco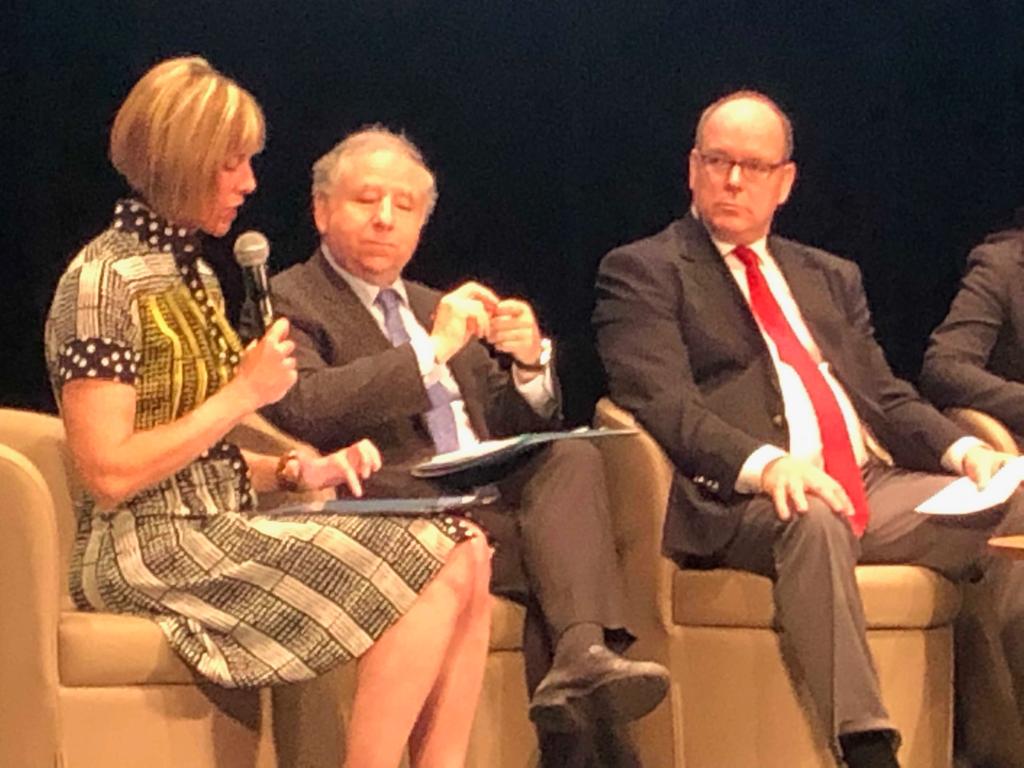 A day later I looked at another aspect of Smart Cities – the mobility side. This was with FIA – Formula E. I'd hosted a day for them in Rome and this was an event to wrap up the Season ahead of Formula E in Monaco – where the electric race cars would drive a similar circuit to that of Formula 1 a couple of weeks later and to celebrate the partnership with Prince Albert II of Monaco's Foundation.
His Serene Highness Prince Albert II (not that I am name dropping 😉  told me that earlier that week a drone had delivered a package in Monaco – without harm and to the right location.  Monaco may only be a couple of kilometres long – but all their buses are hybrids (moving to electric). This summer an autonomous vehicle will start operations in the old town moving people (slowly) around. They host a solar powerboat race that is now in its sixth year of operations.
Every FIA Smart City Forum is about bringing mobility and sport together. Transferring technology from a racing track of electric cars to the road means that everyday cars are becoming cleaner.  How? Formula E champion Lucas di Grassi told me that a lot of the technology in his (non-racing) electric car has come directly from developments in racing electric cars. That's because Formula E is totally different to Formula 1. You can't change the aerodynamics of the car,  You can't change the tires. The only thing you can change is the drive train. This means that the competitors are only competing on one thing: the engine. innovation focused, cheaper and able to jump from cars on the racing track to cars on the normal road.
Alejandro Agag – Chairman of the Formula E Championship – added that the innovation happens quickly. Last year, each driver required two cars. Halfway through the Formula E race the driver had to switch cars. This year one car was enough for the whole race.
Lucas di Grassi is also CEO of Roboraces.  His near-future plan is for a race where drivers race the first half of the race, the car learns from the race and the second half of the race is driven by the car on its own.
Jean Todt, FIA President and the UN Secretary General's Special Envoy for Road Safety, whom I interviewed at Davos earlier this year, says that Smart Cities are safe cities. We currently live in a world where every eight minutes a child is seriously injured in a road accident, where more people die on the road than because of serious diseases like malaria and tuberculosis.  He says that E-prix motorsports can bea laboratory of innovation to sustainable growth just as normal motorsports are.  He said that navigation systems, intelligent traffic lights, connected cars and many other things that are accessible to us today are actually inherited from motor sports.
Kari Eik, Secretary General of the Organisation for International Economic Relations brought me back full circle – reminding me that Smart Cities are more than technological innovations- i.e. more than connected cars and apps on your smartphone.  Through her UN activities she is benchmarking many Smart Cities and – as of today – a smart nation – Monaco!